Prodigi Triple Play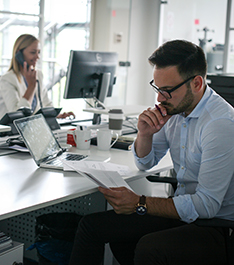 Save money on your communications and entertainment bills by combining your monthly payments for internet, telephone, and cable TV into one package. Through our offering of a Prodigi Triple Play package, you're able to choose from four plans to best meet your needs.
Basic - $118.99
Premier - $139.00
Super Saver - $151.00
Gold - $174.00
Our Prodigi Triple Play plans come with a free digital box for your cable TV, and additional boxes are available for the low price of $5.00 per month, while HDMI boxes are an extra $10 per month. Our technicians strive for the best in customer service and support, installing each component of the Prodigi Triple Play package quickly and efficiently.

Begin to enjoy your content and communication in no time, and ensure you stay connected through our fiber-optic network when you need it. With Procom, you're not committed to a long-term contract. You can cancel the plan at any time, but we know you'll have a wonderful experience with the speed, quality, and cost of our services.
Prodigi Internet
With our quality packages, you're treated to the very best in telecommunications. Need to stay connected? Rely on our high-speed internet when you need to check your emails, browse various websites or stream your favorite movies.
The internet is advancing, and we increasingly rely on our internet connection to excel in business and in school. For the most affordable prices, stay online through the most crucial times without the lags and problems loading web pages.
Prodigi Cable TV
Through the Prodigi Triple Play from Procom, take advantage of the TV bundles in your area near West Virginia and Maryland. Enjoy tremendous savings with the bundle and experience your favorite cable TV shows in the clearest and highest resolution pixel quality.
Our fiber network and add-ons give you the sports, news, and premium cable TV channels that deliver the best in entertainment.
Prodigi Telephone
Enjoy call clarity you've come to expect with the latest technological advances. Procom delivers the solutions with our telephone and VoIP services at a low-cost. Our telephone service in WV comes with many features that assist with call clarity, long-distance, and disability assistance.

You require reliability. At Procom, we deliver the best telephone packages at the best prices. We provide the support you need, listening to your requests to deliver a quality experience.

We streamline the payment process and deliver one low monthly bill so you can get the best in communication and entertainment without breaking your budget. For all telephone, internet, and television packages available, contact us today. We'll go over your options to deliver the best results for you.